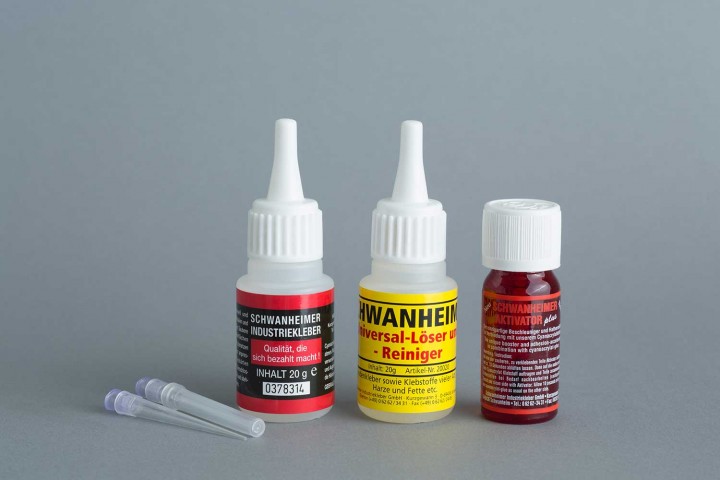 Jewelry Design Set Profi I
Hersteller

Schwanheimer Industriekleber

Artikel-Nr.:

19-33340E
Sofort versandfertig, Lieferzeit ca. 1-3 Werktage
59,40 €*
Preise inkl. gesetzlicher MwSt. zzgl. Versandkosten
Produktinformationen "Jewelry Design Set Profi I"
Content: 1x Industrial Adhesive 20g, 1x Accelerator Plus 10ml, 1x Solvent und Cleaner 20ml, 2x Micro-Top (for exact measuring)


Our jewelry glue sets are suitable for permanent and resistant adhesive bonds of pearls, gemstones, jewelry elements, chains, eyelets, end caps, knots and many more.
Characteristics: Color: transparent, single-component, low viscosity, simple processing, fast curing, high ultimate strength, permanent bonding, clean and crystal clear adhesive bonds also on very small and / or non-fitting surfaces, waterproof, temperature, moisture and chemical resistant, up to 30% higher tensile and shear force, and for open-pore / highly absorbent materials (such as amber, coral, ceramic, wood, leather, etc.) suitable through the use of our Accelerator plus,
Temperature resistance: -55 to + 95 ° C.
Description: In the jewelry sector is usually the area very thin and not suitable for precise adhesive surfaces. The Accelerator Plus is therefore useful. The Accelerator Plus is applied in advance to one side. After an exposure time of minimum 20 seconds the adhesive is applied on the other side and the parts are joined together. Smallest and not tailored surfaces securely bonds without pressure. Well suited for porous and highly absorbent materials like amber stones, coral, wood, ceramic, porcelain, leather and many more. The Accelerator Plus guaranteed a fast and clear curing of our adhesive. The adhesive force is increased again up to 30%. The bonded joints are extensively waterproof, temperature (-55 / +95°C), humidity and chemical resistant.

Application: The accurately fitting surfaces of the parts you want to join must be dry and free from rust, grease, dust and other adhesives (we recommend to clean the surfaces before the application with ACETONE or one of our cleaners!). Apply the Accelerator with the integrated brush on one surface. After a reaction time of at least 20 seconds, apply our industrial adhesive sparingly in dots on the other surface and join the parts together. The adhesive gets cure directly after contact with the accelerator.
Our solvent and cleaner removes glue, adhesives and stains.

Advice: Depending on the application, you can apply the activator Plus, for example, on one side, assemble the parts without adhesive and then the adhesive using the micro-capillary (fine dosing tip) can run into the break.

Shelf life adhesive: At least 12 months; but can be extended if kept in a cool place (refrigerator).

Informations about other sizes, data sheet and pricelists with graduation (graduated prices from 6 pieces per product) on request.
Schwanheimer Industriekleber GmbH
Kurzgewann 3
D-69436 Schwanheim
Telefon: +49(0)6262-3431 + 5461
Fax: +49(0)6262-2406
E-Mail: info@schwanheimer-industriekleber.de
Weiterführende Links zu "Jewelry Design Set Profi I"
---